Absolute Adventure will provide you with the building blocks for effective team work. Our outdoor programmes create successful teams with high levels of commitment and motivation and develop bonds between individuals that are invaluable.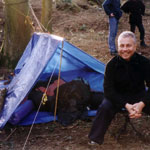 Problem Solving / Scenario Based Course
The Teams complete various tasks, all requiring a different approach and leadership style. With some challenges the planning and mental abilities of the group will be highlighted, whilst in others a more instinctive approach to a physical task will be more effective.
Adventurous Activity Courses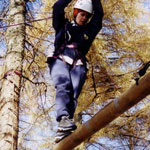 Using outdoor pursuits such as climbing, abseiling and gorge walking, we develop trust and emphasize the importance of team support and communication. Other issues revolve around an awareness of everybody's safety and welfare, whilst also completing the task.
Whichever style of course you chose, we make sure that it is within the ability of all the group. Team building should not be a test of endurance, but an opportunity to observe other people's strengths and share their weaknesses.