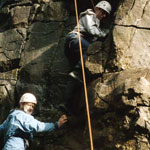 Rock Climbing and Abseiling
For many people this is the greatest personal challenge. You will be fully equipped with the latest safety equipment and have expert instruction throughout, allowing you to develop the confidence and skills to really go for it.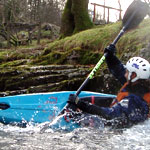 Canoeing and Kayaking
Discover the thrill of canoeing, whether it's a leisurely trip down a canal or taking on the surf and rapids, we can offer a package to suit all ages and abilities. For the more adventurous, try a multi day canoe expedition, camping each evening on the banks of the magnificent river Wye – an unforgettable experience!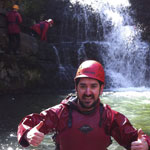 Gorge Walking
If you don't mind getting wet and you're ready for a challenge, this is for you! Take on nature and ascend the gorge, overcoming obstacles as they're encountered, sometimes climbing, sometimes swimming – we even go underground. Sliding down ropes and wading through mud are all part of this exciting day.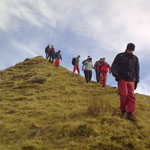 Hill Walking and Mountaineering
Whether it's walking the beautiful Gower coastline, climbing to the tops of the Brecon Beacons or scrambling the ridges of Snowdonia, Wales is unrivalled in its range of opportunities. With courses run at a pace to suit you, our instructors will equip you with the skills and confidence for adventure on the hills.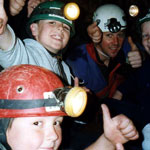 Caving
Discover the world under your feet. Wales has a fantastic range of caves, from grand, majestic caverns, to small maze like passageways. Equipped with caving suits, helmets and head lamps, we will introduce you to this astonishing 'unseen' world.
Whether it's abseiling down to beautiful formations or walking around the large 'easy' caves, this is an experience not to be missed!
Team Building
Absolute Adventure will provide you with the building blocks for effective team work. Using the solid principles of "a shared experience" we help you develop trust and confidence in the abilities of your colleagues and yourself. We don't need to use confusing jargon and theories that have no application in your work place. Our outdoor development programmes create successful teams with high levels of commitment and motivation, and develop bonds between individuals that are invaluable in any organisation.